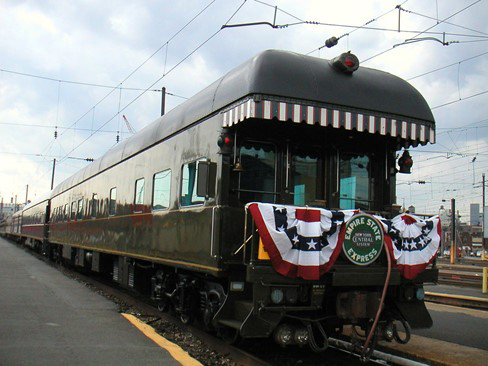 CHICAGO — Tours of three privately owned railcars built by the Pullman Company or Pullman-Standard will be offered on Saturday, September 4 and Sunday, September 5 at Metra's 111th Street/Pullman Station as part of the Grand Opening Weekend. Pullman National Monument. Amtrak P42 locomotive number 161, which wears the first stage paint scheme as part of Amtrak's 50th anniversary celebrations, will bring the cars to the site and will also be on display.
There will be a tour every day from 10 am to 4 pm. Tickets will be required, and will be available with suggested donations on the day of the event at the grand opening weekend information tent located at the southeast corner of 111th Street and Cottage Grove Avenue. The tent will open daily at 9 am. Tours will depart every 15 minutes and are estimated to last 35 to 40 minutes. Face coverings will be required, and cars are not ADA accessible.
The private car tours are part of a larger weekend to celebrate the grand opening of the Pullman National Monument in the former Pullman Company factory and its accompanying planned community. [see "Pullman National Monument to celebrate grand opening …," Trains News Wire, July 30, 2021]. The National Park Service has released a short video previewing the incident; The full schedule of events is available on this page on the Park Service website.
The cars that join the tour are:
– New York Central No. 3; Pullman as a commercial car for NYC director Harold Sterling Vanderbilt in 1928, and in 1992 it was remodeled to resemble a 1930s appearance, adding modern technology.
– Promontory Point, built in 1953 by Pullman as a commercial car for Union Pacific and sold to private owners in 1997, when it received its current name. It includes two master bedrooms, a formal dining room with chandelier, a lounge, secretary's room, full kitchen and open=air rear platform. President Jimmy Carter used the car for a whistle-stop campaign in 1976.
— Northern Dreams, built in 1955 as the North Platt for the Northern Pacific, when it had five double bedrooms and a buffet. It was rebuilt to an 11-bedroom configuration by Union Pacific in 1956, sold to Amtrak in 1971, and modified for use on auto trains until its retirement in 1997. It was sold to its current owners in 1999, acquiring its current name. Renovated in 2013, it currently includes six double bedrooms and a lounge, with surround sound, a kitchen for full dining service, and WiFi.
More information on private-car tours is available here.